| | |
| --- | --- |
| | Attention!: This article is under revision, as it is lacking in purpose, under the wrong name, or needs a lot of changes. |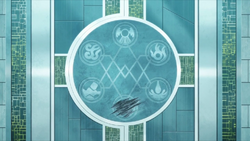 The
Elemental Lords
are powerful spirits who rule 
spirits
of the natural world. Their existences allow humans to start fires, cultivate the land, or even benefit from wind and water.
Each Elemental Lord has one princess maiden serving under them, as the Queen of Elemental Lords. These queens are selected from the «Divine Ritual Institute».
There were originally six Elemental lords, but the Darkness Elemental Lord «Ren Ashdoll» decided to oppose the other five lords and through a war, was defeated by them. After that, all proof of the Darkness Elemental Lord's existence was erased from the human world and from Astral Zero.
Elemental Lords
Edit
Fire Elemental Lord «Volcanicus»

A warrior wielding a blazing sword

Wind Elemental Lord «Belphal»
Earth Elemental Lord «Lode Gear»

An iron mallet-wielding giant

Water Elemental Lord «Iseria Seaward»

A woman hugging a water jug to her chest

Holy Elemental Lord «Alexandros»

An aged man with a scale and bishop's staff

Darkness Elemental Lord «Ren Ashdoll»
A Queen serves under each of the Five Elemental Lords.

Reicha Alminas is the current Queen under the Fire Elemental Lord.
As of now (Volume 12) other Queens are unknown.

In Light Novel Volume 4

The Elemental Wind Lord owns a Bellfahle-class flying ship.
Only princess maidens were allowed to enter the Elemental Lord's territory in Astral Zero.